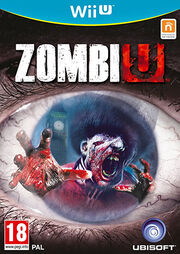 ZombiU is a first person zombie game that was released with the Wii U in North America on November 18, 2012. The Game is set in London and players can control various survivors throughout the game. The game uses the wii U Gamepad for various things such as looking at your map, scanning for things, using turrets, as well as many other things. 
400 years ago, Welsh astronomer John Dee creates an apocalyptic prophecy known as The Black Prophecy which will be fulfilled in 2012. "The Prepper", an "ex-army, no-nonsense" man sees this apocalypse coming and prepares, whilst a secret society known as the 'Ravens of Dee' researches his predictions to find a way to stop them from being realised. In November 2012, the Black Prophecy begins to be realised in the form of a zombie outbreak in London, England. Survivors hide in the Prepper's bunker, with one, the player, being chosen to confront the zombies, supported by Raven leader Sondra. Meanwhile, one of the Queen's doctors, Dr. Knight, searches for the fabled Panacea under Buckingham Palace.
The life and death of Thomas Harrison
Edit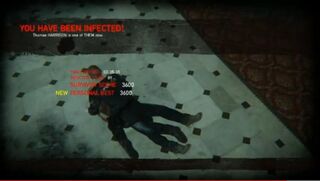 Thomas Harrison was an Electrician who happened to be Robbaz' first character. Thomas had survived for 2:35:35, or 5 episodes. He was defeated when one of the armored bums (zombies) got him while he was looting another bum. This was the saddest day in video game history. In Thomas's short stint in the Apocalypse, he had discovered a few Glory Holes and defended the safe house from many bums.
Amelia Davis
Edit
Amelia Davis was a Dancer before the Infection took over society. Her first act of duty was to kill the now Infected Thomas Harrison. After the difficult task of destroying the Infected Thomas Harrison, she had to retrieve the book that Thomas failed to do. She got the book while surviving a few Bum attacks and managed to get back to the Laboratory in one piece. After a killing yet another bum, she was charged with the task of retrieving another book. When traveling to the location of the book, she stumbled upon a Zombie Disco. Using her cold hearted strategics, she put a land mine behind the Bums and turned off the music so one of them would step onto the mine sealing their fate. She eventually obtained the second book and returned to the Laboratory.