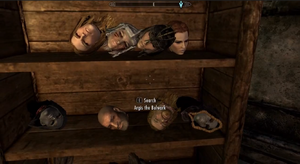 Vlindrel Hall is one of Robbaz' homes in The Elder Scrolls V: Skyrim. It is located in Markarth or as he calls it, "Makrat" in the vanilla game. He used this home in his Thanksgiving in Skyrim video as a base for all of his followers to feast.
Thanksgiving
Edit
With Sven and Lydia on cooking duty, you would expect a great feast, the usual, right? Full of unprepared chickens and roasted children. Delicious. Well... You were half right. "Unusual" doesn't cut it for this event.
Here is a list of everything unusual Robbaz added to Vlindrel Hall, his house in "Makrat":
Headless Lydia
Headless Brenyla Maryon
Headless Brenyla Maryon Mk II (he thought we wouldn't notice)
Headless Argis the Bulwark
Headless Jordis the Sowrd-maiden
Headless Njaada Stonearm
Headless Stenvar
Headless Jenessa
Headless Illia
Headless Iona
Possibly more headless followers
A polar bear sleeping with a dead woman (unkown)
Agni in a fireplace, roasting alive
Another child in a fieplace
A collection of follower heads in a bookshelf
A decayed human skull
Sven .
The Ceremony of a Thousand Skulls
Edit
To make sure Thanksgiving was at its fullest, Robbaz decided to do the following:
Whack a chicken stuffed to death against a table
Threw the chicken at Lydia's lifeless body
Moved the children around to make sure they were cooked through
Called Sven a Viking (possibly to raise his spirit)
Threw Iona's corpse at Sven and called her delicious
Used Unrelenting Force on the followers' heads
Decapitated Sven in such a glorious manner that he cut his hair off and attached his helmet to his body!
Put Sven's body and helmet in the fireplace on top of a dead child
Threw Sven across the room
Ran from the house (possibly to escape the law)
Sent his Viking followers a death threat